Hermetic Library Newsletter #90
BEWARE
This week I added a new page for Village BEWARE OF ARTISTS Propaganda. I actually created and posted the poster to social media back in 2016 but apparently didn't ever create a page at Ministry of Information for it. Well, I've fixed that now.
And it's time again to beware of what might show up in your candy. Who knows? You might get lucky and find rainbows or red books!
For my Goetia and Tarot experiments I worked with the text and seal of Bathim and The Star card using MidJourney with 4-up images here, and I link to the threads on the library's social if you want to see them all, individually posted.
Plus almanac, a meme, zine, updates, quotes, reviews, and more!
And, as always, I worked on various other things on website, blog, and more … Enjoy!
Beware
BEWARE: As Halloween gets closer, higher guardians are warning parents to LOOK at your child's candy before they eat it. What looks like some other innocent red wrapped candy is actually a Red Book, like Das Kapital, or Mao's, or Jung's, or, even, actually promulgating the Law of Thelema!
And, definitely don't discuss the contents, lest your children be shunned!
♬ Mommas, ♫ don't let your babies grow up ♪ to be Centres of Pestilence ♫
Wise to destroy any copy you find after the first reading.
Also, so that you are forewarned and four-armed (cuz having four arms would be cool!) here's a handy identification guide with a sample of a few dangerous red books with a red rock from Sedona.
MidJourney
This week I continued my experiments with text and image prompts for Goetia with the seal and description of Bathin.
(18.) Bathin. – The Eighteenth Spirit is Bathin. He is a Mighty and Strong Duke, and appeareth like a Strong Man with the tail of a Serpent, sitting upon a Pale-Coloured Horse. He knoweth the Virtues of Herbs and Precious Stones, and can transport men suddenly from one country to another. He ruleth over 30 Legions of Spirits. His Seal is this which is to be worn as aforesaid.
Following my observation that I was getting results that seemed maybe too alike week to week, I went way overboard and there's four sets this time. I tried a mix of pasted block of text, parsed keyword text, and image of the seal for prompts to see how things came out. I hope I settle on fewer prompts soon, but I'm trying to find the right prompts for the most interesting results, as one does. Since there's so many, I'm still posting these in the thread through next week.
For tarot, worked with Atu XVII, The Star as if by Méret Oppenheim. For more about Méret Oppenheim.
For these I used a mix of text and image prompts. The text was from the Book of Thoth. The images were either Oppenheim's Sun, Moon, Stars (which I really wanted to use but was nervous might not be hers since I had trouble finding it, but appears to be in a private collection, so it seems reasonably legit and verified) and one of the photographs of Oppenheim herself by Man Ray. Here's the prompt images.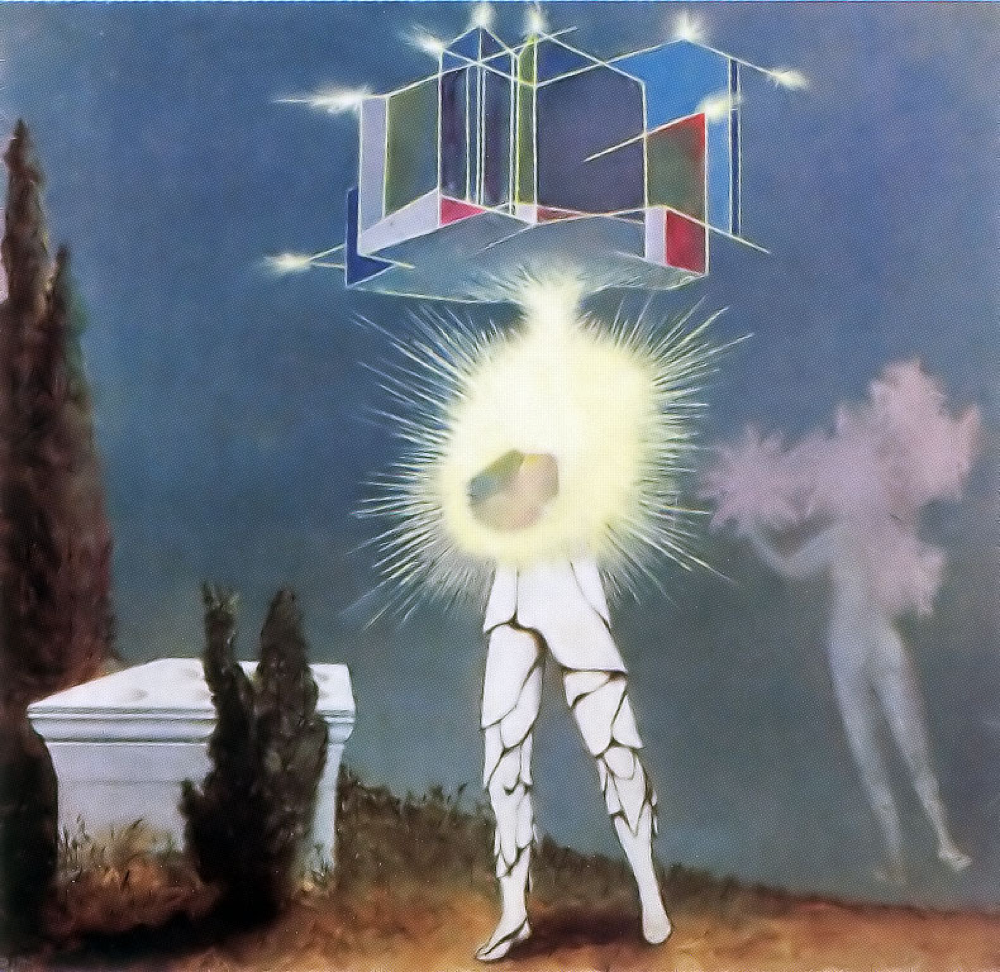 And here's the four sets of 4-up results from MidJourney.
I also tried both Goetia and tarot in DALL-E. I didn't like anything it came up with for Goetia, but here's two images for a parsed text prompt based on the Book of Thoth description and the idea of The Star by Méret Oppenheim.
So, that was a lot of images generated this week! And I'm still posting both series to the threads on the library social. But, I've made new Hermeneuticon entries for Bathin (I keep trying to typo Bathim!) and The Star.
Almanac
Here's upcoming calendar and astronomical events, plus the daily Thelemic Tephilah practice for the coming week, October 14–October 21.
Calendar
Follow Calendar on the web, email, rss, and in the 'verse. And, if you have a current or upcoming event to share, add it to the Hermetic Library Calendar!
Greater Feast of Anne Leah Crowley, Poupée, died October 14, 1920 at Palermo, Italy
Greater Feast of Ida Craddock, died October 16, 1902 at New York, United States
Greater Feast of Richard Francis Burton, died October 20, 1890 at Trieste, Italy
And, check out these upcoming events posted to the Calendar blog.
Astronomical
Look for Mars, brighter and more orange than stars, near waning gibbous Moon tonight, October 14
Third quarter Moon, October 17
Look for clusters , such as NCG 129 and NGC 225, at Cassiopeia, visible even with good binoculars, October 18
Dwarf planet Eris at opposition, October 18
Orionids meteor shower, October 20–22 (good time to view in the moonless pre-dawn on October 20, 5–20 meteors an hour)
Thelemic Tephilah
Follow Thelemic Tephilah on the web, rss, and in the 'verse.
BEWARE: As the marriage of Peleus and Thetis gets closer, the oracles are warning the gods to LOOK at what gets tossed in the midst of the candy feast, lest there be a golden apple inscribed τῇ καλλίστῃ
Zine
Follow Zine on the web, email, rss, and in the 'verse. And, if you something you've created to share, send it in to the Hermetic Library Zine!
Things to check out at Hermetic Library
And on the blog
Also, elsewhere
"somehow red books with simple lettering just scream 'read me'."—dictvm
---
Hermetic Library Newsletter by John Bell the Librarian of Hermetic Library
This is like following on big social media, but better for everyone. Free weekly newsletter filled with Hermetic Library related stuff via email, web, rss, and in the 'verse!
Archiving, Engaging and Encouraging the living Esoteric Tradition, Hermeticism, Aleister Crowley's Thelema, & much more. Open Access Occultism for over 25 years.
Become an ongoing supporter of my work as a Patron or Subscriber. This newsletter contains affiliate links to some of the things I talk about and if you click them I might make a tiny amount of money. Or, if you've something else in mind, get in touch!
Hermetic Library, PO Box 368, Moberly, MO 65720, USA