Hermetic Library Newsletter #86
a reminder again, again, but with even more increasing urgency
Coming up this week is September Equinox! ☉ at 0° ♎️ (Sun at 0° Libra) on Friday, September 23 at 1:03 UTC.
This week I kinda took a break from the annoying migration thing. Instead I mostly worked on implementing a daily hexagram from I Ching for the Oracle bot in the 'verse. Got that working pretty good, I think! Next up: Geomancy!
Back to Goetia and Tarot experiments for Leraje and Death using MidJourney with 4-up images here, and link to the threads on the library's social if you want to see them all, individually posted.
By the by, as a reminder again, again, but with even more increasing urgency, these are the last few weeks before the Magick, Music and Ritual 17 deadline on September 30th. I've got covers, bonus downloads, and a few submissions. However, I don't have enough submissions yet for a full release, so if you know anyone who would be interested in participating, let them know. If that's you, get in touch soon!
Plus Orryelle's Book of Kaos deck, almanac, propaganda, new and old memes, zine, updates, quotes, reviews, and more!
And, as always, I worked on various other things on website, blog, and more … Enjoy!

Liber CCXII I Ching
I added a daily hexagram from Liber CCXII I Ching to the bot that posts to the Hermetic Library Oracle in the 'verse.
What I do is throw virtual staves, one of which is "especial", to determine which hexagram. The "especial" stave tells which line of the six-line poem is the "moving" line.
When I post the hexagram, I use the information from Liber CCXXII to offer the name, description, hexagram glyph, the two line overall meaning, and the moving line.
To read the whole text for the hexagram, there's a link to it.
For example, here's the daily hexagram for September 16.
Now, you can always just head to the Oracle on the web to check it out. But there's other ways to follow along. For example, you can literally follow the account in the 'verse. You can also add the Oracle RSS to your reader. Moreover, if you want to get fancy, you could, if you wanted, check only the #HexagramOfTheDay tag at Hrmtc I∴O∴ via web or even add just that to your RSS! Lots of options! (And, of course, you can do similar things with any of the other, or all, accounts and hastags at Hrmtc I∴O∴)
But, that's now posting each morning with the tarot card of the day. And, it looks pretty good! I could have better images of the Thoth deck for the tarot of the day, and I could add images to the I Ching eventually. But, I don't have all of them handy yet, just a few I've created to post when I've hit particular social media milestones, like this one, as an example, when I passed 14,000 on Twitter.
But, it's up. It's running!
Next to consider setting up is Geomancy and Liber XCVI!
Her: "Let the salt of Earth admonish the water to bear the virtue of the Great Sea. Mother, be thou adored."
(Balázs Farkas tweeted out the 2nd image from Rabid and I just had to find a way to combine it with my previous meme derived from that movie. Haha!)
13 years
I created the library accounts over on Facebook and Twitter 13 years ago!
That was shortly after taking over the library site. I hadn't even started the blog yet, iirc! It's been a ride on big social.
Well, it's only been a few months, but, in comparison, it sure feels like it's been a very, very slow start in the small social 'verse. (I've been starting to have some doubts about my commitment to Sparkle Motion™️, if I'm honest. But that's a different conversation.)
But, either way, thanks for following along via this newsletter and wherever else you might be doing so!
And, hey, look over on the library's Hrmtc I∴O∴ account!
Nice.
If you're here, I presume you know already; but, just in case you found this newsletter but didn't know about all the rest, come check out the library, underground, and social instance pages for links to all of the things, including the library itself, blogs, newsletters, social media, Internet radio, zine, and more!
And, you know, word of mouth goes a really long way, so, um, let other people know! Not in an annoying way, of course. (That's my job!) But, if you're talking to people about the overall subject matter or whatnot that's near or adjacent to library activity, mention that they might check things out at the library too!
The Book of Kaos
This is The Book of Kaos, a deck by Orryelle Defenestrate Bascule.
Although not a Fellow, per se, the library site has material particularly around Horus-Ma'at by and about Orryelle.
I think, iirc, I picked this up directly from them at an Esoteric Book Conference in Seattle in the Before Times.
(Do you have some interesting deck or magical tool or book to share? Maybe a bit about what it is and a bit of story around how you got and/or use it? Get in touch! Just reply to this newsletter, or, maybe, co-opt the Zine submission process, with a note that it's for the newsletter. Maybe that could be a new thing for this newsletter … or, you know, the actual zine.)
MidJourney
This week I did experiments with text prompts for Leraje, or Leraikha, from Goetia. I had the idea to try half of these with just the text and the other half with the text plus the image of the seal as a hint, just to see what happened. Also, again, I'll put these as 4up groups linked to the thread if you want to see more, instead of including all the huge images in this newsletter directly.
Then I did an experiment for the prompt "Death tarot card by Ithell Colquhoun". (Technically, I actually use a much more complicated prompt, which includes a lot of additional text hints from the description of the card in The Book of Thoth, but …)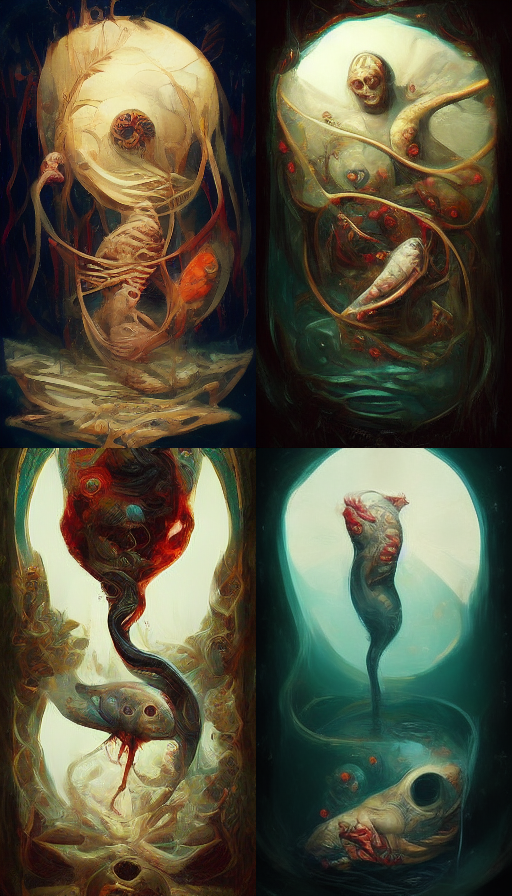 Almanac
Here's upcoming calendar and astronomical events, plus the daily Thelemic Tephilah practice for the coming week, September 16–September 23.
Calendar
Astronomical
Neptune at Opposition, September 16 (closest to Earth and fully illuminated)
Third quarter Moon, Sept 17
September equinox when ☉ at 0° ♎️ (Sun at 0° Libra) on Friday, September 23 at 1:03 UTC.
Thelemic Tephilah
MJ: Tell me the truth…I'm..I'm ready to hear it.
Peter: Every number is infinite; there is no difference.
::cries::
Things to check out at Hermetic Library
And on the blog
Also, elsewhere
---
Hermetic Library Newsletter by John Bell the Librarian of Hermetic Library
This is like following on big social media, but better for everyone. Free weekly newsletter filled with Hermetic Library related stuff via email, web, rss, and in the 'verse!
Archiving, Engaging and Encouraging the living Esoteric Tradition, Hermeticism, Aleister Crowley's Thelema, & much more. Open Access Occultism for over 25 years.
Become an ongoing supporter of my work as a Patron or Subscriber. This newsletter contains affiliate links to some of the things I talk about and if you click them I might make a tiny amount of money. Or, if you've something else in mind, get in touch!
Hermetic Library, PO Box 368, Moberly, MO 65720, USA